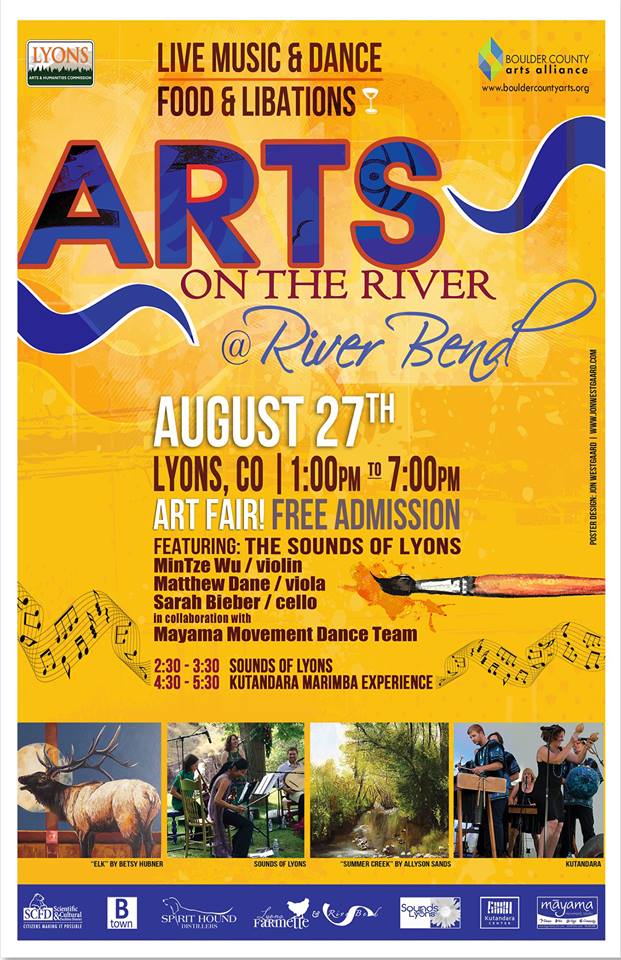 Sounds of Lyons 2017 coming to you
In collaboration with Arts on the River
August 27, River Bend, 501 W. Main, Lyons
A True Celebration of Arts, Nature, and Community
Free Outdoor event for your whole family
1:00-7:00 pm, Arts on the River
2:30-3:30 pm, Sounds of Lyons
Sounds of Lyons presents Sage Trio: violinist and founder MinTze Wu, violist Matthew Dane and cellist Sarah Biber, in a program featuring the five-movement Mozart Divertimento for String Trio and multiple inter-disciplinary collaboration with each movement. Artists Mystie Brackett and Chrystal DeCoster will create art along with the soulful Adagio movement. Dancers from Mayama Movement Studio will bring hip-hop and modern interpretation to the Menuette movements, and audiences of all ages will be invited to express their listening experience through "Music on Canvas."
Arts on the River will present 38 Artists from the Front Range, Food trucks from Button Rock Bakery, Farmer Girl, and Savory Cuisines, and libations from Spirit Hound Distillers and B Town. utsandara Marimba Ensemble will perform from 4:30 to 5:30 p.m.
Come join us at this beautiful event!
Special thanks to:
Lyons Fermette & River Bend
Lyons Arts and Humanities Commissions
Boulder County Arts Alliance
Western Stars Gallery & Studio
Mayama Movement Studio
Descant Productions
Since its inception in 2009, Sounds of Lyons strives to represent and express the many sounds, faces, voices, delights, cultures, and emotions of Lyons.
It holds a space where people come to explore, to reveal, to heal, and most of all, to celebrate what's around and within us.