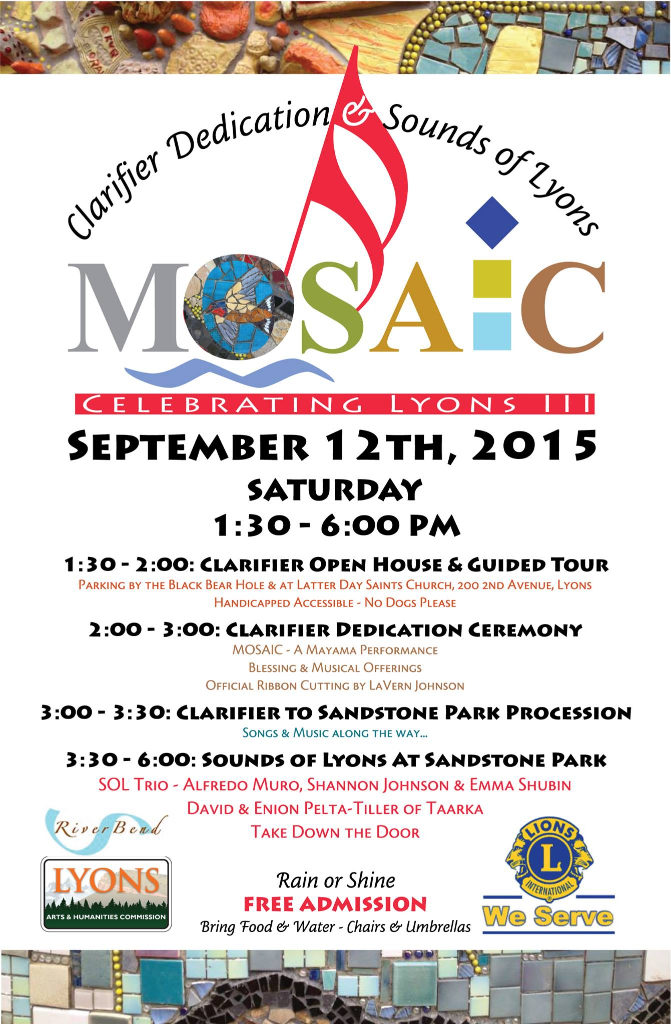 In remembrance of the devastating flood two years ago, and in continuation of celebrating the spirits of Lyons with what unify us all: arts, music, and community, Sounds of Lyons and Clarifier Project join to present MOSAIC: Celebrating Lyons III.
The Clarifier Project is community art in action, transforming an old defunct wastewater treatment tank into a magical mosaic landscape embracing nature and life. Sounds of Lyons will help celebrate the dedication of Clarifier to the Town of Lyons as a permanent testament to the power of community. In MOSAIC: Celebrating Lyons III, the two artistic endeavors converge and become one, as we remember and celebrate the creativity, the resilience, and the legacy of the community. The event is tentatively planned for September 12, which will embody the Blessing Ceremony of Clarifier, the Procession with music and songs, and Sounds of Lyons at Sandstone Park.
The 360 degree mosaic Clarifier structure evolved organically and has many layers of meaning and elements of visual playfulness. The circle represents the cycles and rhythms of life; the four seasonal sandstone trees leaf and change color, the leaves disappearing as you walk around. The clay leaves were created by Lyons elementary and middle/high school students. Astrological medallions chart the passage of time through the heavens in the upper rim. The ceramic sun is the symbol for the Lyons Golden Gang and was made by those very Golden Gang and GAP high school members. 12 local bird species, glass mosaic pieces created by the Such family, fly clockwise in the direction of the sun. Earthy, textured handmade tiles made by Lyons citizens form the bedrock of the landscape. A ripple of concentric blue hearts in the upper night sky commemorate the rift of change that tore through our town on September 12, 2013. Many small donations of very personal items and materials join these larger contributions, creating a brand new sparkling, vibrant whole. Much dedication, time, energy, natural elements and materials have woven together to form the Clarifier. It has always been about the abundant beauty, richness and resilience, the joy of life.
Two years ago, we congregated at First United Methodist Church in Boulder and began our long healing journey with Celebrating Lyons I. A year later we came back to Sandstone Park for Celebrating Lyons II as we continue making strides towards recovery. This time we will gather again, to launch the Clarifier into a testimony of Lyons community and a gift to the world.