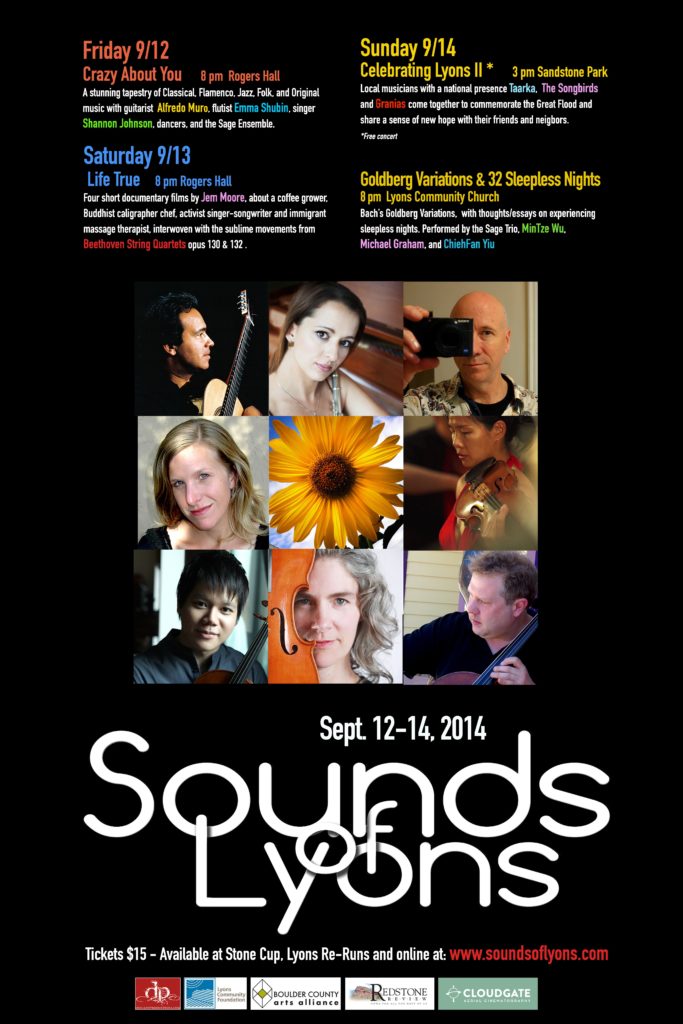 The story went like this: "Six years ago, it was a thought sprouted during one of the ruminating walks in Lyons, the air brisk but the heart thumping with the possibility of a classical music festival alongside the much celebrated folk music here. Since I am part renegade, part experimentalist, and part naïve, mixing them up then you get a pretty decent combination to start a festival." Now we are at the sixth annual Sounds of Lyons, and we are still going strong, despite the many unpredictable tales both personal and universal. Sounds of Lyons 2014 will feature a creative mix of classical music, flamenco, folk, jazz, and integrating documentary film, Beethoven String Quartets, dance, and essays. There will be a three-day workshop for children and a special event dedicated to the commemoration of the 2013 flood. This very unique, very inspirational weekend festival has a heart and soul that's unmatched, appealing to all ages, from all walks of life.
Returning to Sounds of Lyons this year are guitar virtuoso Alfredo Muro and flute sensation Emma Shubin. Together with the versatile vocalist Shannon Johnson and fantastic flamenco duo Mark Herzog and Natalie Perez del Villar, they will bring about a dynamic and eclectic program titled Crazy About You. An ensemble piece featuring Artists-in-Residence, filmmaker Jem Moore and the Sage Quartet, Life True is a program of four short documentary films each following the path of someone finding what's true in their life, interwoven with live performances of four sublime movements from Beethoven String Quartets. The films are Truth: the story of Douzhen Coffee Plantation owner; Simplicity: the quest of Hakka singer-songwriter Lin Sheng-Xiang, Gravity: Annie's Journey; and Balance: The landscape of Tree House Five Lady. These are visual tone poems that try to portray the ineffable mysteries of the soul. Goldberg Variations & 32 Sleepless Nights is a revelation of thoughts and sketches on experiencing sleepless nights, as was legendarily associated with the insomniac Count Kaiserling when the set of variations was commissioned. This unusual presentation of a string trio version is a conversation between three intimate voices.
As we continue with Sounds of Lyons' spirit of exploring the endless possibilities within classical music, we are also dedicating a concert to the Lyons community and the Flood that has changed so much of our perspectives and experiences in life.
In Celebrating Lyons II we bring together the beloved Songbirds Julie Adair, Ashley Johnson, and Shannon Johnson, the swashbuckling celtic band Granias with Beth Gadbaw, Margot Krimmel, Jessie Burns and Annie Sirotniak, and stellar Gypsy jazz Taarka Quartet with Enion Pelta-Tiller and David Tiller. Mayama Movement Studio is dedicating a Contemporary Dance to Bach's Andante, and Sara Hart will lead a "Lyons Blessingway" with small musical contemplations scattered along the procession. This event, co-presented by Lyons Arts and Humanities Commissions, is where the community with its people and creative forces come together to reflect, express, reconcile, heal, offer gratitude, and celebrate.
A new addition for this year's Sounds of Lyons is SOL MAP-Sounds of Lyons Musical Arts Program, collaborating with the Integral Steps in bringing a three-day workshop B.A.M.M. (Biology, Arts, Movement, and Music). Through the original story "The Adventures of Reddy Freddy", children ages 4-10 will explore various biology and ecological aspects of the little red fox, and create their own artistic set with movement to be incorporated into the final production of "Reddy Freddy" at the Celebrating Lyons II concert. Registration is limited and available at integralsteps.org.
In announcing this truly fabulous season of Sounds of Lyons, I will also have to announce a group of extraordinary individuals, organizations, and businesses that help support Sounds of Lyons as it continues to thrive. They are Lyons Community Foundation, Boulder County Arts Alliance, Cloudgate Aerial Cinematography, Descant Productions, Redstone Review, Lyons Arts and Humanities Commissions, KUNC, The Tucker Group, Bonnie Richards, Peter Baumgartner, Mystie Brackett, and Lyons Lions Club. A heart-fell 'Thank You' for all the support! Tickets are $15, also available at The Stone Cup and Lyons ReRuns.
SOL 2014 at a glance
Friday, 9/12, 8 pm, Crazy About You | Rogers Hall
Saturday, 9/13, 8 pm, Life True  |  Rogers Hall
Sunday, 9/14, 3 pm,  Celebrating Lyons II  | Sandstone Park
Sunday, 9/14, 8 pm, Goldberg Variations & 32 Sleepless Nights | Lyons Community Church
Friday-Sunday, 9/12-9/14, B.A.M.M. workshop | Rogers Hall