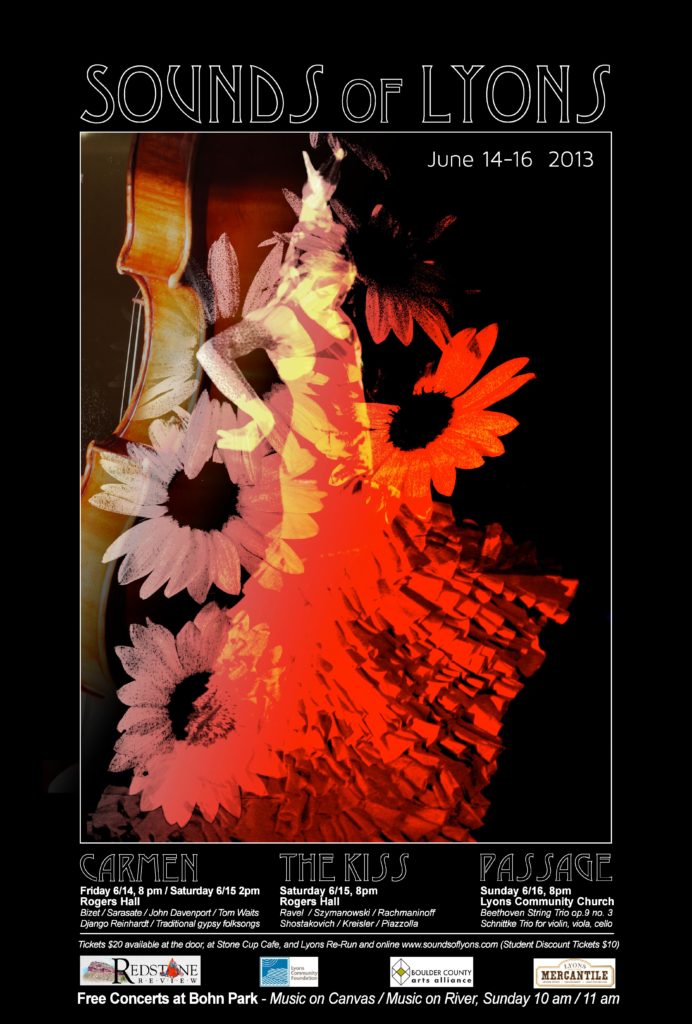 Season Five. There is something so satisfying in acknowledging this little music festival that has grown into a fun, spirited "being" embraced by many. It is with the abundant creativity and genuine curiosity of a young soul that Sounds of Lyons continues to explore the new territory of classical music, finding ways to connect, to dig in deeper, to reach out further, and to have the kind of fun that might be forbidden elsewhere!
Five years ago, it was a thought sprouted during one of the ruminating walks in Lyons, the air brisk but the heart warming with the possibility of a classical music festival alongside the much celebrated folk music here. Since I am part renegade, part experimentalist, and part naïve, mixing them up then you get a pretty decent combination to start a festival. Five years is not long, but we are growing vigorously during this time. Not only in our artistic attempts, but also in the result of how many people we have connected and journeyed together through music. Sounds of Lyons is being shared by the riverbank of St. Vrain, under the paintbrush of children's imagination, in the authentic Rogers Hall, the gorgeous Wildflower Pavilion, and Lyons Community Church that is elegant and moving in its simplicity. In fact, Sounds of Lyons has been filling music all over town, engaging students, singers, artists, dancers, poets, theater aficionados, people young and old, seasoned and new, to music of Beethoven, of Benjamin Britten, of Petoris Vasks, or Steven Reich, of the fantastic world of sounds and sensations and expressions ready to be discovered, to be immersed in. For all that, I am proud to say that we have had a great five years under our wing.
Now into 2013, with three productions that draw on a variety of artistic languages, each with its own powerful content in an intimate setting, we are continuing with our exploration of new possibilities within classical music. It will not die. In fact, with our genuine efforts classical music will continue to grow, to thrive, and to inspire. Come join us on June 14-16 for the fifth season that starts with two shows of the fiercely eccentric Carmen, the visually stunning and aurally luscious Kiss, and the internally illuminating Passage. My deepest gratitude for those that have helped shape and support the festival: Lyons Community Foundation, Boulder County Arts Alliance, Lyons Merchantile, Lyons Arts & Humanities Commissions, Lyons Lions Club, Oskar Blues, Lyons Farmette, Lyons ReRun, Barking Dog, Experience, The Stone Cup, Dan Siddell Realty, Jonelle Tucker Realty, Urban Oasis, Roger Peirce Piano Service, Lyons Community Church, Lyons Community Montessori, and Planet Bluegrass.
The Kiss             Friday, June 14, 2013, 8 pm  |   Rogers Hall
A rhapsodic interplay between the music of Ravel, Szymanowski, Milhaud, Piazzolla, and the visual interpretation of an imaginary story inspired by Klimt's famous painting "The Kiss." The ensemble features a violin and piano duet enveloped by the duet of music and film.
Carmen Fantasy             Saturday, June 15, 2013, 8 pm  |   Rogers Hall
Based on the beloved opera of Bizet fused with gypsy fiddling and Tom Waits to depict the Carmen within us that is seductive, fearless, passionate, and rule-breaking. The story is being portrait by the ensemble of eight instruments (violin, viola, cello, piano, percussion, flute, clarinet, guitar) and four voices. It is music, drama, and liberation of performing art.
Passage             Sunday, June 16, 2013, 8 pm  |  Lyons Community Church
Unveiling the music of former Soviet composer Alfred Schnittke and a world that was filled with despairing conflicts and relentless hope. The piece is preceded by Beethoven's emotionally stormy c minor string trio and followed by improvisation reflecting on the music.
Music on Canvas     Saturday, June 15, 2013, 10 am  |  Bohn Park 
Music on the River  Saturday, June 15, 2013, 11 am  |  Bohn Park 
Children 3 and up gather to express and create art together while listening to live performance, unlocking the bird and river and the colorful world in music. Sit back and enjoy the serenades and divertimenti by Dahnani, Mozart, and Beethoven, performed by Sage String Trio.