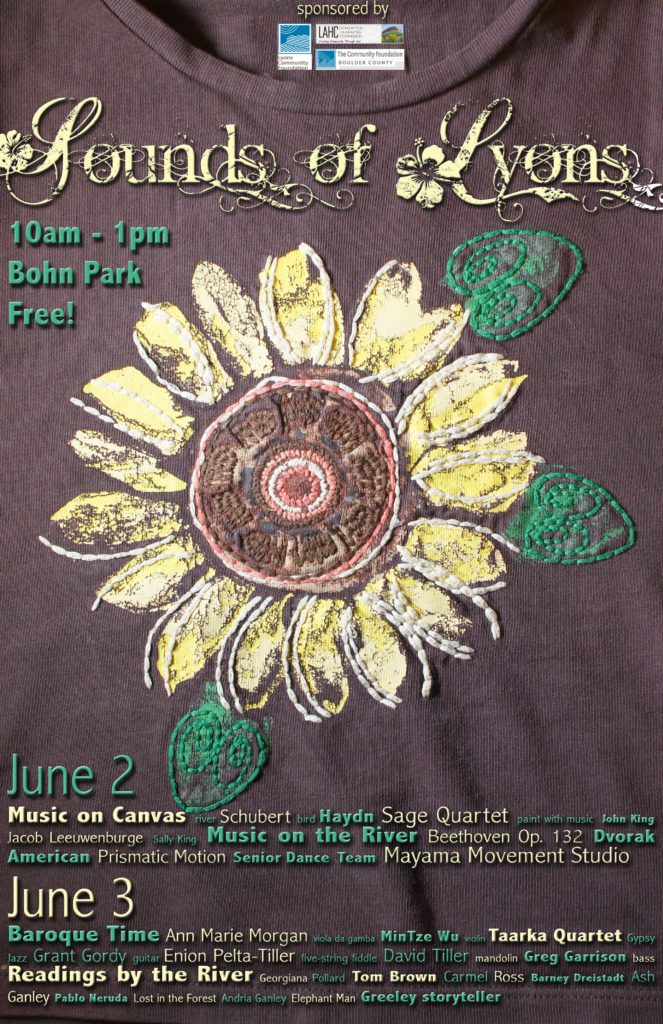 This is truly a celebration of arts in all different forms in Lyons. Into its fourth season, Sounds of Lyons goes outdoor and beyond music. Wear your sandals, bring your lawn chairs, and let us gather by one of the most signature spots of Lyons, Bohn Park. You are in for a feast of music, dance, and readings by the river!
Starting at 10 a.m. on Saturday, June 2 is the much-loved "Music on Canvas". Designed for children from 3-12, this is an opportunity for children to express their listening experience through creating art together. Come discover the "river" in Schubert and the "bird" in Haydn. Violinist MinTze Wu and her string quartet will take the children into listening intently to the various "sounds" in music. At the same time, artists Jacob Leeuwenburge. Sally King, and John King will mentor the children in painting while listening to live music. Following the act is "Music on River" at 11 a.m., where the string quartet will dive into an hour of most enchanted music including slow movements from Dvorak's American Quartet and Beethoven's Quartet op.132. Concluding the morning is something you don't want to miss, the dancers from the Mayama Movement Dance with their stunning production of "Prismatic Motion" at 12 p.m. June 3 starts with Baroque Time at 10 a.m., featuring sensational music from the 16th and 17th century with Early Music specialist Ann Marie Morgan on viola da gamba and Baroque cello, joined by MinTze Wu on violin and Baroque bow. At 11 a.m. one of Colorado's hottest band, Taarka Quartet will take the stage with Enion Pelta-Tiller on five-string fiddle and vocal, David Tiller on mandolin, Grant Gordy on guitar, and Greg Garrison on bass.
A virtuosic cadre of performers who have roamed the freeways and backroads of the new and old acoustic caravan trail in search of a revolutionary ancient sound for modern times. There are Gypsy-jazz, bluegrass, Celtic, chamber-folk, jazz, rock, and even Indian influences, all distilled through the most virtuosic hands. The final act of Sounds of Lyons 2012 features a group of talents from the Lyons Community Theatre. There will be children's story, original piece, humors, poems, and excerpts from classical literature, interlacing with music. The readers are a conglomerate of professional actors and local favorites, including Community Theatre director Georgiana Pollard, Tom Brown, Carmel Ross, Ash and Andrea Gangley, Simone Herald, Mark Dissette from Denver, and Tannis Bator from Greeley.
Sounds of Lyons is firmly rooted in the belief that music transcends boundaries of genre, class, tradition, and cultures. The mission is to celebrate music with people of all ages, all backgrounds, and all diverse interests. The 2012 season will be an integral part of the larger Lyons Art Walk celebration. Sounds of Lyons is proud to be grant recipient of Lyons Community Foundation and Community Foundation Serving Boulder County, with the generous support from Town of Lyons and Lyons Arts and Humanities Commissions.
All events are free and open to the public. Come enjoy the most special natural and cultural offerings of this beautiful town. For more information, please contact MinTze Wu at 303-249-7135 or visit www.soundsoflyons.com