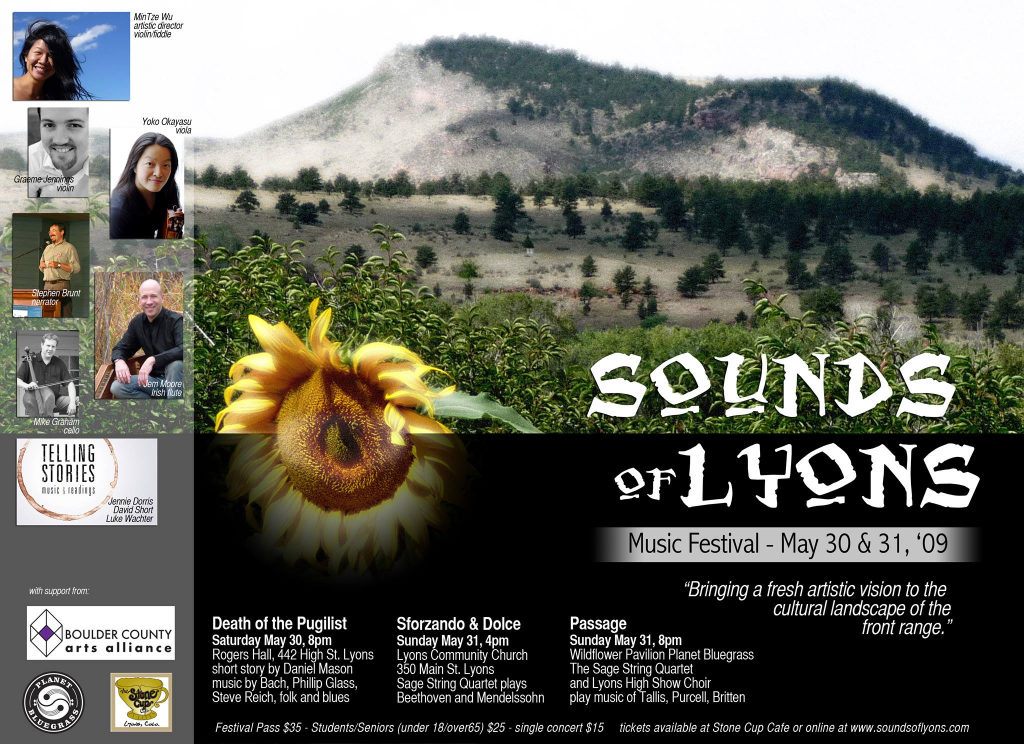 Sounds of Lyons, May 30&31, 2009, Lyons, Colorado.
For two days, the picturesque town of Lyons will host world-class musicians, internationally-acclaimed authors, regional and local talents in three enchanting concerts, exploring new possibilities in classical music and offering a fresh artistic vision. The festival brings the US premier of "Death of the Pugilist", an experimental ensemble piece based on Daniel Mason's short story; "Sforzando & Dolce", two beloved string quartet by Beethoven and Mendelssohn; "Passage", a musical journey through ancient and modern music with string quartet and a cappella chorus.
Saturday, May 30, 8 pm, Rogers Hall
Death of the Pugilist
MinTze Wu, Jem Moore, and musicians from Telling Stories. Stephen Brunt, narrator.
Sunday, May 31, 4 pm, Lyons Community Church
Sforzando & Dolce
Sage String Quartet: MinTze Wu, Graeme Jennings, Yoko Okayasu, Michael Graham
Sunday, May 31, 8 pm, Wildflower Pavilion
Passage
Sage String Quartet, Lyons High School Show Choir.
$15 single concert/ $35 festival pass/ $25 seniors & students discount.
Tickets available now at www.soundsoflyons.com, and Stone Cup Café
Special discounts available for patrons at local restaurant.